The Nebraska Department of Education's graduation requirement change for mathematics and science will take effect July 1, 2014. This may impact graduation planning for some students.
Any students planning to complete only two years (20 credit hours) of mathematics courses and two years (20 credit hours) of science courses to graduate under the current diploma requirements must complete and submit all required UNHS coursework and receive a passing grade by Monday, June 30, 2014, in order to graduate. UNHS students will not be grandfathered into the current UNHS diploma requirements as of July 1.
UNHS has included this information in its graduation requirements references to help students prepare for the transition from the 20 credit hour requirement to the 30 credit hour requirement in these two subject areas. UNHS has lowered the electives requirement from 75 credit hours to 55 credit hours to keep the 200 credit hour total for graduation. All of these details are shown in the table below.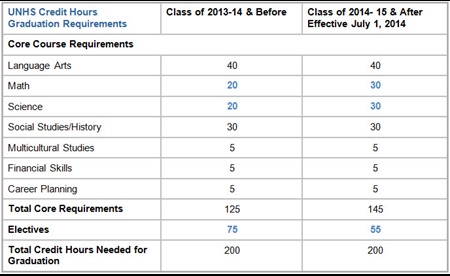 Please plan accordingly to meet the June 30, 2014, deadline for your course completions. This could mean organizing your study time in a new way. If you have any questions, please contact Customer Service.