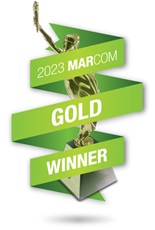 This fall the University of Nebraska High School (UNHS) won Gold MarCom Awards in three categories for its recently redesigned 2023-2024 Course Catalog.
The MarCom Awards are a well-known and respected international competition celebrating excellence and creativity in marketing and communication across various mediums. The awards display an impressive spread of talent, from corporate entities to individual freelancers, showcasing the diversity and innovation in the industry.
Gold MarCom Awards were awarded to UNHS in the "Creativity" category and "Publications" category for the design of the course catalog.
"I was ecstatic to hear we had won Gold MarCom Awards for this year's catalog. It is a fantastic achievement and recognizes the hard work and creativity of the UNHS marketing team, especially for such a significant project. It's a testament to their talent, dedication, and effort invested in the creative design and execution that truly paid off."Michael Bomberger, UNHS Assistant Director of Marketing and Recruiting
Michael Bomberger, Assistant Director of Marketing and Recruiting, states that the new course catalog design also coincides with a significant milestone at UNHS of 95 years of excellence and is a great way to showcase the legacy and opportunities the distance learning high school has offered for decades. Bomberger also won a Gold MarCom in the category of "Individual Achievement" for his role in the course catalog.
"The recognition of the redesign of the course catalog is evidence of Michael's strategic design talent in action and is well-deserved. Michael is the newest member of our UNHS leadership team and in his short time here we have already seen significant improvements across many marketing and recruiting materials. He brings a fresh perspective that results in success for his team and for UNHS."Barbara Shousha, UNHS Director
The MarCom Awards are administered by the Association of Marketing and Communication Professionals (AMCP). The organization was founded nearly 30 years ago and is comprised of thousands of industry professionals from around the world. Moreover, AMCP's mission includes supporting the efforts of creative professionals in the nonprofit sector, and in recent years AMCP has given hundreds of thousands of dollars in charitable contributions, demonstrating a broader sense of responsibility and giving back to communities.
For those aspiring to make a mark in the creative industry, winning a MarCom Award holds substantial value. It's not just a recognition of talent but also a nod from peers and experts, serving as a testament to the award recipient's skill and expertise.
About the UNHS Course Catalog
The UNHS Course Catalog is an annual print publication that was significantly redesigned in 2023. Past versions of the catalog were smaller in size and contained a higher volume of pages with dense content in a black and white format. The redesign included a larger overall size which allowed UNHS to include fewer pages while still maintaining the same core information that's always been included in the catalog. The new catalog design is also produced in full color with more design elements to help improve the readability of the content and a new stitching design that allows users to easily spread the catalog open to any page without it automatically closing, which occurred with the old catalog design. Request a print version of the 2023-2024 Course Catalog here.
About the MarCom Awards
MarCom Awards honors excellence in marketing and communication while recognizing the creativity, hard work and generosity of industry professionals. Since its inception in 2004, MarCom has evolved into one of the largest and most-respected creative competitions in the world. Each year about 6,500 print and digital entries are submitted from dozens of countries. Read more about the MarCom Awards here.