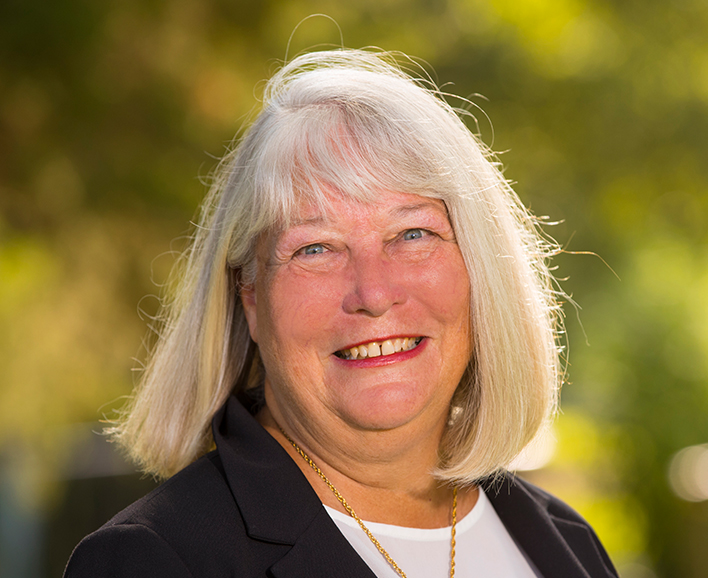 Here at UNHS, we have an outstanding staff made up of administration, teaching, advising, curriculum/instructional design, marketing, recruiting, and information technology services. Collectively, this special group of people makes it possible for us to serve students across the globe year after year. One such essential member of our successful program is Judy Montgomery, Assistant Director and Team Leader of Curriculum at UNHS. This spring, she retires after nearly three decades of work in education.
Originally from North Dakota, Judy graduated from North Dakota State University specializing in social science education. She spent several years teaching in person before distance education piqued her interest. From there, Judy began teaching and designing online curriculum, eventually making her way to the UNL Independent Study High School (now University of Nebraska High School) in 1998. Since February of 2013, she has worked in her role as Assistant Director and Team Leader of Curriculum and has designed an impressive 150+ courses in her career spanning 27 years.
Colleague David Amstutz, Senior Instructional Designer, recalls her creative force in designing new courses. "As a gardening enthusiast with an interest in travel, Judy has a special fondness for geography and life science courses, and she also enjoyed designing courses that pioneered new technologies—Earth Science, Pre-Engineering, Computer Science Coding, Introduction to Web Design, AP® Computer Science, and Mandarin Chinese. Thank you, Judy, for all you have done for the University of Nebraska High School!"
Over the years, Judy has been honored with multiple awards for her work in course design, including six UPCEA national awards and the 2006 AACIS EdMap Course Developer of the Year Award. In addition to these, she has won two international awards from USDLA in recognition of 21st Century Best Practices for her work in designing the UNHS Biology and Physics courses.
UNHS Director Barbara Shousha reflects on the contributions Judy has made during her time with UNHS, stating, "Judy has devoted her intellect and energy to the development of young people. As our UNHS curriculum leader, Judy never wavered in her belief that students could take on challenging material and learn. Her high standards are evident throughout our courses and have set our students on the path to future success. We are grateful to all that she has given to the UNHS community. While we have to say goodbye to her as our colleague we will keep her close as a friend to our school."
In her spare time, Judy enjoys gardening, cooking, and reading. Her retirement is quite special as she is retiring with her husband, Mitch Montgomery, who has also worked for the University of Nebraska since 1998. Mitch has worked as an agricultural technologist for the small grains project for 23 years. The two of them share a love of traveling, and their retirement plans include trekking across the country to visit the last state parks on their bucket list. In their travels, the pair has been to 38 U.S. states with 12 to go! Judy is most excited to visit Hawaii someday and see all of its parks.
While she will miss the people and the creativity of course design, Judy is looking forward to this next chapter in her life. It is bittersweet to see such a valuable member of the team go but we are happy for Judy and confident that she will have a great retirement filled with many adventures and memories.
Happy travels Judy! On behalf of everyone at UNHS, as well as the thousands of students you have impacted over the years, we thank you for your dedicated service and wish you the best in your ventures ahead.