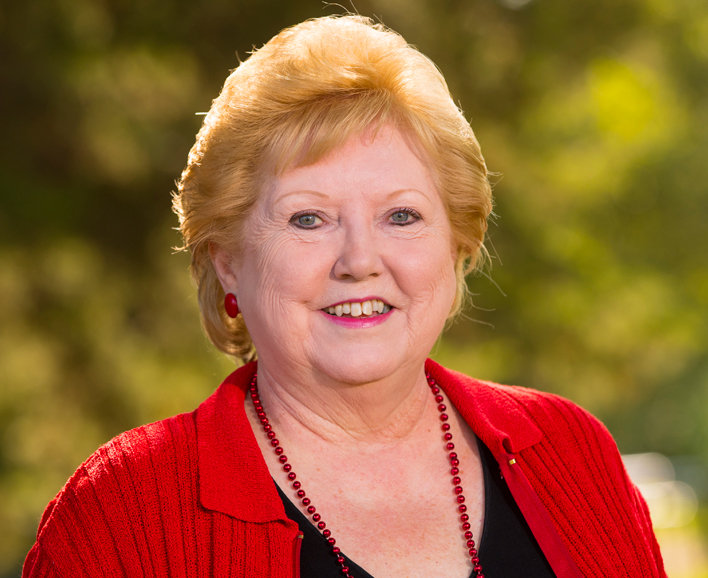 At UNHS, we are made aware on a daily basis just how much of a difference teachers make in our students' lives. While some of our teachers work remotely, we've been lucky enough to share office space with Carolyn Hovermale for the past 20 years. What started as a role in quality control while UNHS was more fully transitioning to being primarily online has evolved into a teaching career that spanned two decades.
From humble beginnings in Grand Forks, North Dakota, Carolyn can trace her life's journey through the Midwest and a 25-year long stint on the west coast. After graduating from the University of South Dakota, she moved to San Francisco where she worked as an insurance underwriter. She remembers walking down to Chinatown from her office for some of the most scrumptious almond cookies she's ever eaten. After 25 glorious years, the Midwest beckoned, and Carolyn came back and settled in Lincoln, Nebraska.
When she isn't helping students achieve their academic potential, Carolyn loves cruising on the open seas. Along with her husband, Keith, she has explored the Caribbean Islands, traveled through the engineering marvel that is the Panama Canal and witnessed one of nature's greatest marvels, the glaciers along the coast of Alaska.
Carolyn will be retiring at the end of this month. We are sad to see her go but we are excited for her journey ahead. Carolyn has been a crucial part of the teaching staff here at UNHS and her presence will be missed. Hugh McDermott fondly remembers and appreciates all of Carolyn's help when he first started as principal with UNHS. Hugh says that Carolyn is very efficient at what she does and is always there to talk with about grades, tests and other day-to-day school activities.
UNHS adviser Debby Bartz says she is going to miss her dear friend. Debby reminisces about all the times she and Carolyn grabbed lunch at a downtown restaurant. "Carolyn loves searching for pennies on the streets, they bring her luck!" Debby shares. She has no shortage of praise for her friend and colleague and adds, "Carolyn has a very warm heart. She remembers the homeless with donations, shares the sundries collected from cruises with the Barnabas Community in Lincoln, and has generously shared donuts, dried fruit and nuts with fellow employees. Over the years, she remembers everyone's birthdays at work and best of all, gives a daily beautiful smile to all."
Debby and Carolyn enjoy chatting about a variety of topics, including swapping colorful travel stories to excitedly discussing their respective grandkids. Carolyn only recently became a grandmother and is excited beyond words to have more time to spend with her seven-month-old grandson. Her two sons live in California and Oregon with their respective families, and she is looking forward to traveling to these locations more often in retirement for visits.
Carolyn plans to spend her retirement traveling, going on more cruises, trying out different restaurants around town for lunch and spending more time with her grandson. She says she's going to miss the people she has worked with over the years and will always have fond memories of UNHS.
Bon Voyage, Carolyn! From everyone here at UNHS, we wish you all the best in your journey ahead.